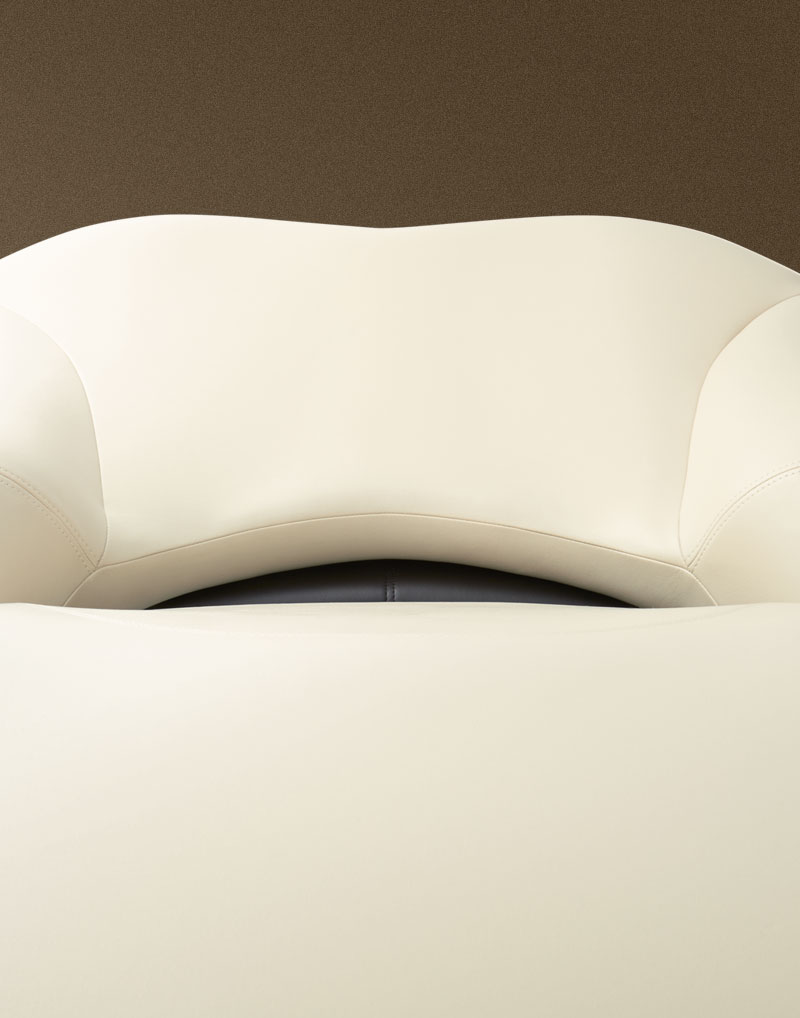 SOMERSET, NJ – The meaning behind Takara Belmont's "YUME" chair loosely translates to "dream," the YUME Espoir shows us how it earned this title. It's a dream for customers, stylists, and salon owners everywhere. A truly unparalleled product, the YUME is more than a chair – it's a spa experience.
Customers can recline fully into luxury, as they lay down with a custom neck rest and contouring pillow to enjoy their treatment. Just as the value of your salon rises with the push of a button, so does the YUME Espoir, raising and lowering with just one-touch technology on its sleek, modern design. The shampoo bowl is positioned perfectly for a seated shampoo style, which creates ease for lengthy treatments and opens up service menus to a whole new set of possibilities.
The Espoir yields optimal comfort for the technician as well, allowing them to sit while performing an array of spa treatments. Paired with an ergonomic, tiltable YUME stool that is designed to relieve stress on the technician's spine and other high-pressure areas, your technicians will feel more comfortable while performing services. Takara Belmont's persistent commitment to quality and innovation ensures that this comfort will last—adding a high value investment for business owners.
"Perhaps the most valuable part of the YUME Espoir is the capacity for a YUME Head Spa service, where your customers actually leave feeling healthy and rejuvenated," said Steve Hughes, National Sales Manager of Takara Belmont, "and with the full benefits of a YUME Head Spa menu, such as extensive hair and scalp treatments, you can give customers a uniquely satisfying spa treatment experience that focuses on the health of your clients."
Another bragging right of the YUME system is the Spa Mist II, which Takara Belmont's Beauty Product Designer, Taka Mizunuma, says is the "key ingredient in providing clients with amazing results."
That's because the mist heats up to just 40-50 degrees, resulting in minimal hair damage. It also opens the cuticle of the hair, allowing for treatments like conditioning, hair color, and more, to be absorbed more effectively. Customers leave with their hair not just looking healthier, but actually being healthier than when they walked in.
"Each system transforms the way hair and scalp treatments are performed," said Hughes. "With a focus on health and beauty, the system uses our revolutionary technology to help stylists and technicians improve the shine, luster and vibrancy for their clients."
The spa shampoo unit model #SH-YMES is approximately 211.65 lbs., and is equipped with a wide shampoo capacity. With overall dimensions of approximately 25.59''W x 75.71''D x 36.61'' H and a seat height of approximately 18.90", this unit lifts upwards of 8" to elevate your client to an optimal seated shampoo position. Available in white, dark brown, camel and black upholstery selections, the YUME Espoir will be displayed at various trade shows throughout the year.